Aqua Gold Water Purifier with Two extra Filter at just Rs. 149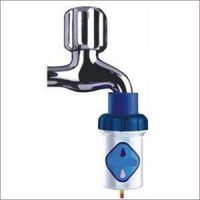 Features :
Uses Magnetic Path Contact Cartridge (MPCC) that ensures 100% bacteria free magnetic water instantly.
The iodine resin used in aqua gold is a blend of iodine and activated carbon. It destroys bacteria and enhance the microbiocidal powder of iodine thus resulting in rapid disinfection when compared to iodine alone.
No electricity required.
No plumbing required.
Maintenance free cartridge.
Magnetized water for better health.
High purification capacity up to 9000 liters.
Comes with two extra candles.
Using Aqua Gold 4U regularly improves digestive system, reduces tiredness, inhibits cholesterol deposition in blood vessels, gives relief to heart and increases efficiency
sirji is it reliable
Just for the record, you cant magnetise water! You may apply an electric field, creating temporary dipoles, but there's nothing called magnetic water. And as a doctor, I also have to add that there are no health benefits of "magnetic water".
A filter for Rs 149 seems ok though!
only 1 small issue that its rediff
Aqua Gold not aqua guard.
You can try ZERO B if you need a tap filter.
voted up