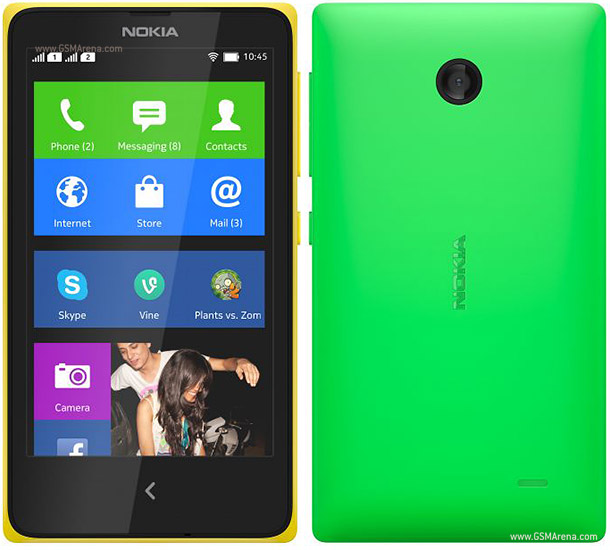 NOKIA X Package contents:
Mobile phone
battery
charger
Red head phones.
USB Cable not included.
manual.
First review in hand, phone is well built and feel solid in hand. I wont speak off about the technical terms here, but only give a plain review.
Removing the back cover is a bit tardy, as you need to press the cover in back middle and remove the back cover, holding on top right corners. Its a bit annoying if you are not used to it. See the manual if you are not able to remove. Battery is user removable. Charged for around 5 hours for full recharge.
The charging port is per industry standards and can be charged with any micro USB.Has a 3.5mm jack on top.
A volume up/down button and power on/off button.
No other physical buttons. And Only A capacitive back button available.
Phone starts quick enough, and will prompt to set language and to send some one time data before enabling the mobile.
About Phone:
-————
In settings "About Phone" , it shows Software Version as 10.0.3 and platform as "Nokia X Software platform 1.0" and no where mentioned as 'android'.
Memory:
-——
Available memory for apps is approximately around 1.00 GB for apps and 1.11gb for others. Good thing is We can add the memory card. Need to try if the mobile supports installation of apps in SD ca
Dual SIM:
-———
Its "micro" sim enabled. So you need cut your existing sim or get a new micro sim if you dont have. DUAL SIM Settings is easy and like any other phone. You can enable/disable any sim
Internet/GPRS/3G:
-———————
Wifi option is available. And you can enable GPRS/3G/data roaming for any one sim in "Connections —> Mobile Data and networks".
Tethering/hotspot option is also availble, so that you can share your internet connection to your friends.
Apps:
-—
Installed viber and skype till now from the store in mobile. The store doesn't need an account to download and install the app. Good enough.
You need to register for an account to give ratings and feedback and to buy if any.
Transferred few "APK's" from android mobile and installed them with out any flaws.
Also those who are used to certain apps on Android that are not on Nokia's store will have to look at third party stores for downloads. Better do a download in other mobile google play store, save the apk's via "appsaver" app and transfer them to your NOKIA X and install. This is to save trozans and virus from direct downloads in internet. thats it. Not yet tried installing google service apps like google maps and others.
You need to allow third party app's to install them.
Settings —> General —> Secuirty —> Device administration —> Select Unknown sources.
Most of the inbuilt apps/games are trial usage and are not full apps.
Display:
-——-
Clean and tile based interface as in windows mobile.Display is good enough and better than other phones of similar range. For lock screen, there is a pin or password and no swipe lock as in android.
Even though phone is locked on home screen, message preview are visible on screen,you can this settings in "privacy".
keyboard:
-———
There is a default keyboard installed and is called "NOKIA keyboard" which is similar to swipe in android. Its good enough to use, but not as good as in android.
Battery:
-——-
Its pretty good for now.Was not able to use it continuously.
Standy is pretty awesome, its coming to almost more than 4-5 days with no usage.
Fastlane:
-———
this is a good feature here, where in your most/recent accessed apps will be available in fastlane. You can customize it too. Can be accesible by left/right swipe of home scree
Pros:
-—
No need to register in store to download free apps.
Clean and Tiles like interface, as in windows.
Good camera pictures, even though its 3 MP.
Good display.
Processor is good enough to handle most of the tasks. need to check it for high end games though
Cons:
-—
Touch is not so responsive at times.
Removing back cover is a bit tough.
need to remove battery everytime to replace sim and memory cards.
Overall, the phone is quite sturdy till now and works well.
If you are A PURE ANDROID BUFF, then this mobile will surely disappoint you. If you are NOKIA mobile lover and like to adjust with apps/google store's flexibility then this mobile is a pretty good one. on the whole this mobile surely won't disappoint first time smart phone users.
Pre-installed Apps in the mobile
Utility Apps:
Internet(browser)
Email@
Camera
MixRadio
Music
FM Radio
Here Maps(offline maps).
BBM
facebook
twitter
Astro File Manager (30 days version)
WeChat
Opera
Games:
-—-
DangerDash
FruitNinja
Real Football
Kingdoms & lords
Tetris
SimCity Deluxe
Bejeweled 2
Monopoly class
The Game of Life
Green Farm 3
WonderZOo