Main features
• WXGA (1280 X 800) native resolution, 720p for video playback
• 300 ANSI lumens brightness
• Compact Pico projector
• 3D-Ready via DLP link
• 30,000 hours lamp life
• Built in media player for video playback via USB and microSD card
• Supports HDMI,RCA,VGA inputs
Overview
With advertised 30000 hours of lamp life , I guess it's a great alternative for a LCD TV, as for this screen size, it comes at half the cost. Say you watch for 4 hours daily, then also lamp will last for about 20 years. So there is no question of frequent bulb replacing like the conventional LCD projectors (average lamp life of LCD is 3000 hours). It supports various video inputs like HDMI, USB, micro SD, VGA, RCA (for connecting basic set top boxes like Tata Sky). However, if you are thinking of connecting an IPAD or Iphone, you will need to purchase separate cable for that. As with all pico projectors, this projector does not have a zoom, but that's not a bothering issue once you get a permanent setup. You can also give presentations from your USB drive/microSD card via the USB/microSD port as it supports powerpoint and even read documents like word, images or pdf through its document reader.
Build and design
The QUMI falls under the pico projector category. For an exact idea about the size, I have used iphone 3g to make a comparison in the pictures. I can easily fit in the palm of an average sized individual. The projector has a power adapter, which is a bit smaller than you average laptop adapters. The back panel of the projector has various interfaces for input and output. The remote of QUMI is small sized (like a laptop one) with which you can access the projector's onscreen menus. The sensitivity of the remote is not top of the line. However, you will hardly need it once you have tweaked the menus. For adjusting the focus of the image there is a focus wheel. The lamps are LED so there is no cooling down period. Besides, it does not get hot after even hours of watching like the LCD projectors.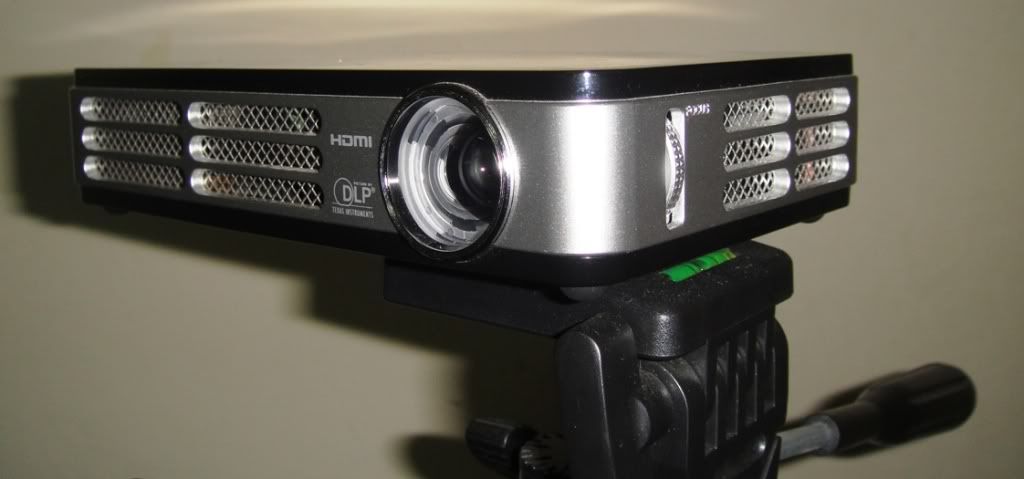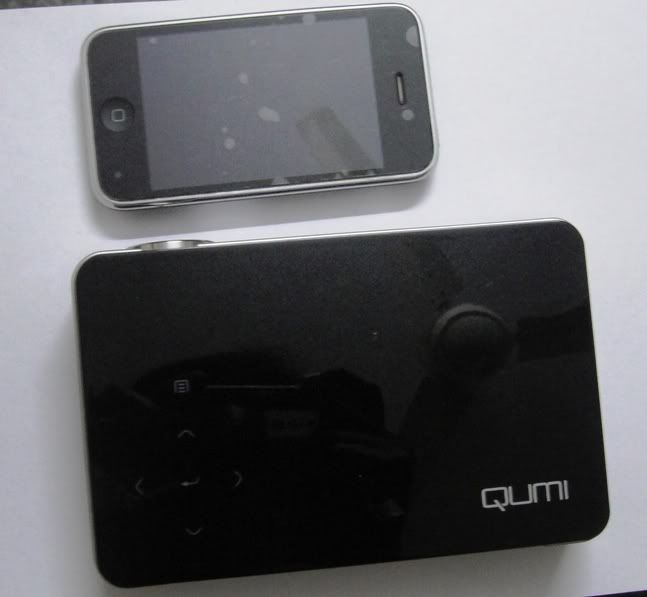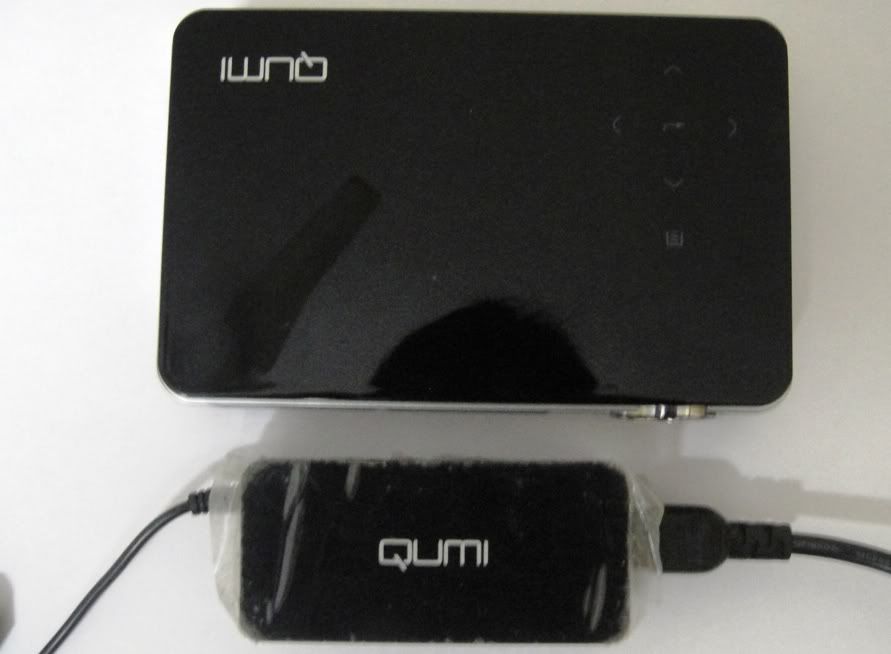 Image Quality
The quality produced by this projector is far beyond compare to the old LCD projector we had been using for presentations. Apart from the custom user settings (allowing you to fine tune for Video, PC, Mac, Chart, and B&W gamma) there are three preset modes: Movie, Presentation and Game. For adjusting color you have color space and temperature settings. The best picture quality was observed with brightness and contrast set to 50 and sharpness to 17-25. The brightness is the first thing you will be questioning, however don't just go for the 300 ANSI lumens figure. For eg. In a reasonably dark room I was able to produce a decent 120" size image without significant loss in the quality. For a fairly lit room, however you can decrease the image size to get a balanced picture. However, I am sure it can produce an image size of 150" tops without any problem. The size constraint of my room led me to only expand till 120". I have attached the pictures for you to get an idea. However, mind you that the camera is not a DSLR and the image quality is much better actually in person. The color and contrast of the projector are superb, with the best results in 720p or 1080p resolutions. The projector has a native resolution of 720p which gives it the edge over the conventional projectors. It has a contrast ratio of 2500:1 and produces excellent (and True) blacks unlike ordinary projectors which produces shades of gray. The images given below are at shot at my home, projecting on a cream colored wall at a size of 120". (The images shot do not exactly represent the quality, as they have been shot by a basic camera, which did not give good results in the dark. The actual image quality is way better)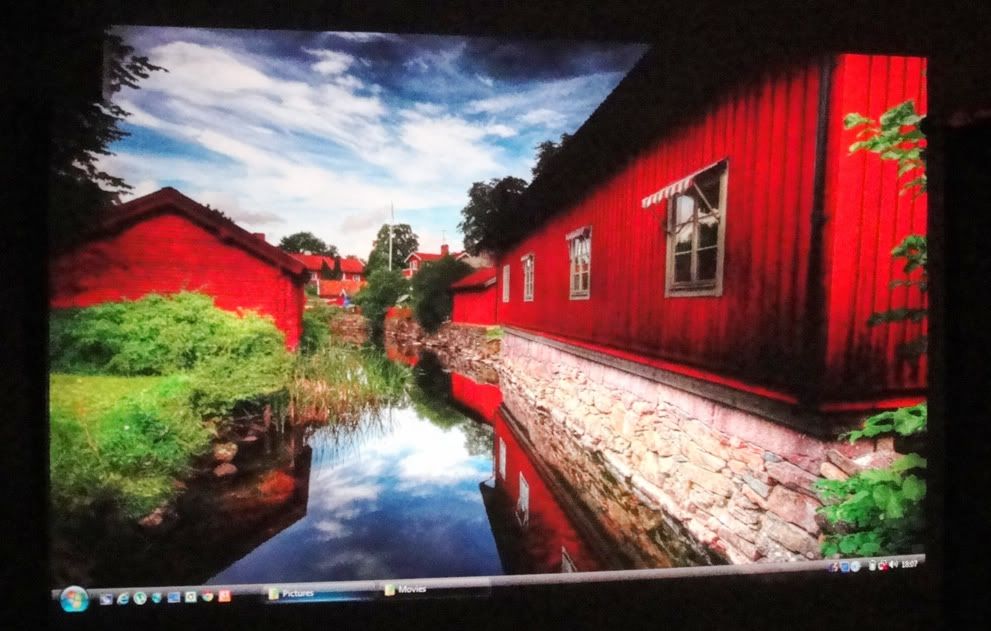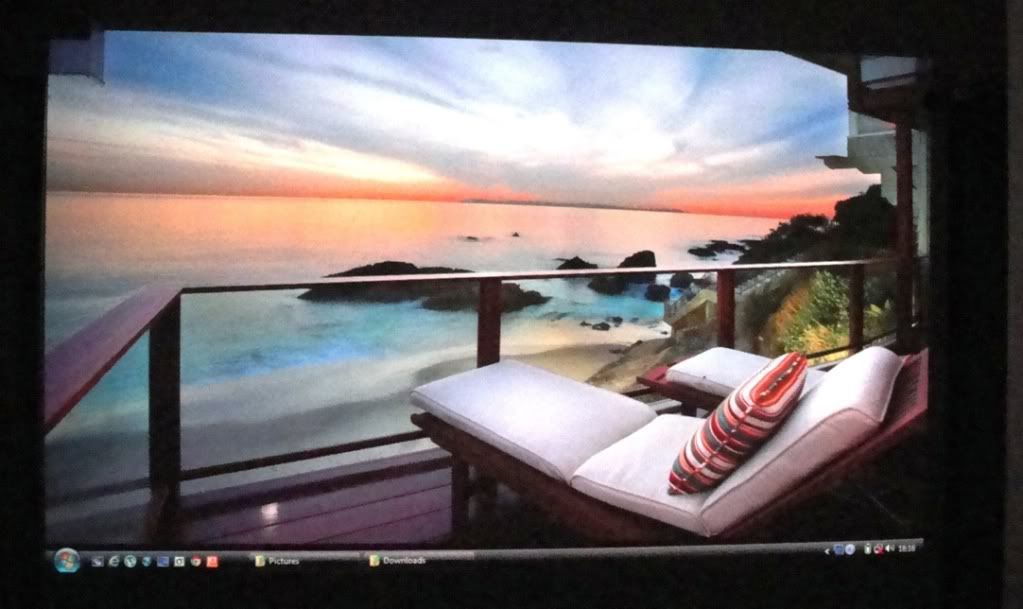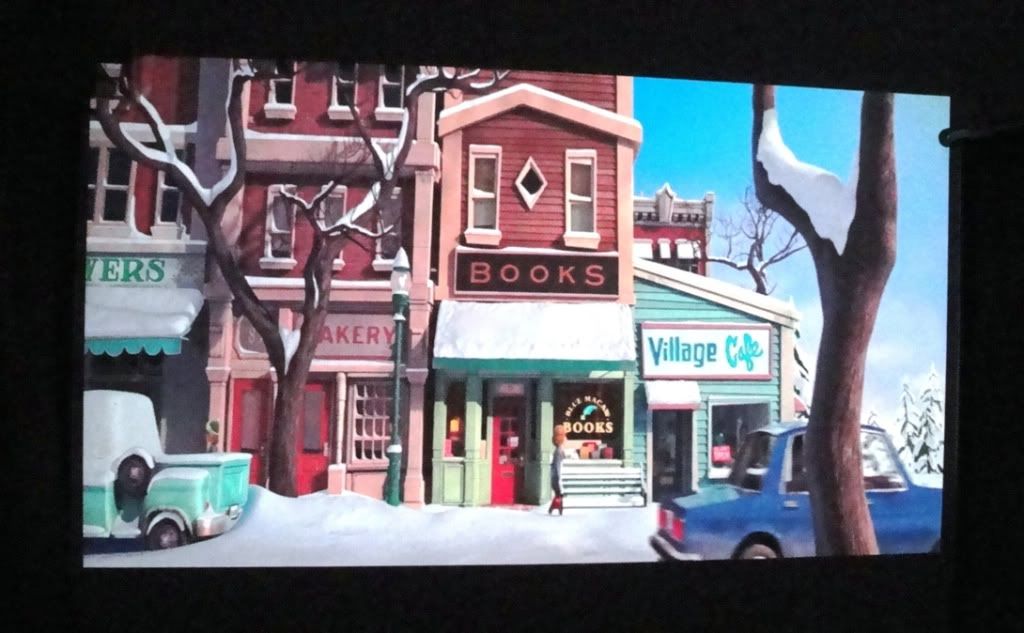 3D Projection
This projector supports 3D but through DLP link, means you have to connect a NVIDIA 3D vision enabled laptop via VGA cable and have 3D DLP link glasses for viewing 3D movies or games on this projector. For playing the 3D PS3 games you will need a converter box, but I assume that is very expensive option. I have yet to experience 3D on my QUMI. So cannot write much about that now.
Cons
• A lot of users have complained about the focus issue with this projector, but mind you don't let this be a deal killer, the issue is temporary as it takes 10-12 mins tops to warm up the optics after which the display is stable till its kept on.
• The second issue is the lack of power switch on the remote. However, the LED lamps do not require cooling so it is fine to simply turn off the power switch to turn it off .
• The inbuilt speakers in the projector are only 2W so it is preferable to use a home theater system or some good quality preamp speakers.
• Lack of zoom (as with all pico projectors), you have to manually move the projector to adjust the image size.
• The supplied cables have very short length and you will need a lengthy cable for proper setup.
My personal Setup and Preferred upgrades/options
I had purchased this projector for 500$ from amazon when I visited USA, however it is also available with Vivitek India albeit at a higher price. You can email them to get the latest price quotes for your city.
I would suggest that for best results it is preferable if you can dedicate a dark room in your home for movie viewing. I am currently using a camera tripod for mounting my QUMI. Also, it is good to have a home theater for getting the best sound experience (the inbuilts speakers are only 2W). For a stereo sound you can connect the basic 2.1 computer speakers or headphones to the audio out on QUMI. I have a Logitech Z5500 connected to my my laptop and HDMI connection from laptop to QUMI for video input. The results can only be appreciated in person
. The QUMI also has a video player via USB (supports MP4, Avi, MKV and other basic video codecs upto 30fps excluding wmv) . However, you don't get a coaxial or optical out in this projector so I prefer using my laptop which supports 5.1 surround. Recommended for best performance will be a media player like WD Live TV, to make a compact home theater system. For 3D playback you will need to buy a NVDIA 3D vision enabled laptop preferably with Bluray and DLP link 3D glasses to make the most out of this projector.
Overall , I felt that this projector was a steal at Rs. 25000/- (Indian price is I guess 35,000/-), as I enjoy hours of movies and TV seasons without worrying about the lamp. I would rate it 4.5 stars on a scale of 5 and definitely value for money projector. If you have any relative/friend in USA you can get this one at a way cheaper price than they have put up in India.
This is my First product review for DesiDime, hope you guys enjoyed reading it as much as I did writing it. If you have any questions feel free to ask…Peace …